San Diego, CA – September 19, 2017 – Local education and business leaders met at the second annual Career Pathways Summit, hosted by the Classroom of the Future Foundation, INFORM Journeys, the San Diego County Office of Education, and National University to help combat the challenges San Diego County schools face in preparing students to become college and career ready.
With an evolving college and career landscape, coupled with an average student-to-school counselor ratio of 800 to 1 in California, students are increasingly overwhelmed and lack the support needed to plan their future. Moreover, many of our students don't have the opportunity to experience the world of work in high school, with a current work-based learning opportunity gap of approximately 143,000 experiences existing in our County. The summit addressed the need for a regional approach to connecting education to the world of work, and how San Diego schools can improve in the arena. Summit attendees also discussed the following:
How the expansion of career pathways is a means for equity in education
The latest professional research on career pathways and work-based learning opportunities in classrooms today, with an emphasis on the importance of teacher externships
How we can achieve collective social impact and provide every learner with a relevant experience to be future ready.
Packed house at the Career Pathways #CareerPS17  sponsored by @CFFSD. Over 200 educators thinking career opportunities for K-12 students. pic.twitter.com/EMtwrTxxLs

— Jeffrey Felix (@jeffrey_felix) September 19, 2017
More than 180 leaders gathered at National University's Spectrum Center for the 2nd Annual Career Pathways Summit. The program kicked off with a welcome and opening remarks from the Classroom of the Future Foundation's CEO, James Wright, remarks by summit moderator Drew Schlosberg, San Diego Union-Tribune, Dr. Michael Cunningham, Chancellor of National University, and Peter Sibley, CEO of INFORM Journeys.
Excited to talk about teacher externships and job shadows at the Career Pathways Summit today! #CareerPS17 @cffsd pic.twitter.com/5uG2ceD4Hg

— Jewyl Alderson (@JewylAlderson) September 19, 2017
The opening remarks were followed by a keynote presentation by Rob Atterbury, ConnectEd: The California Center for College and Career, and an interview with four incredible career pathways students.
Hearing about the student experience is so inspiring! #CareerPS17 pic.twitter.com/gVacHwCxFh

— Jewyl Alderson (@JewylAlderson) September 19, 2017
Following the interview with students, Dr. Paul Gothold, Superintendent of Schools for San Diego County Office of Education, urged attendees to get involved to expand career pathway opportunities for all students.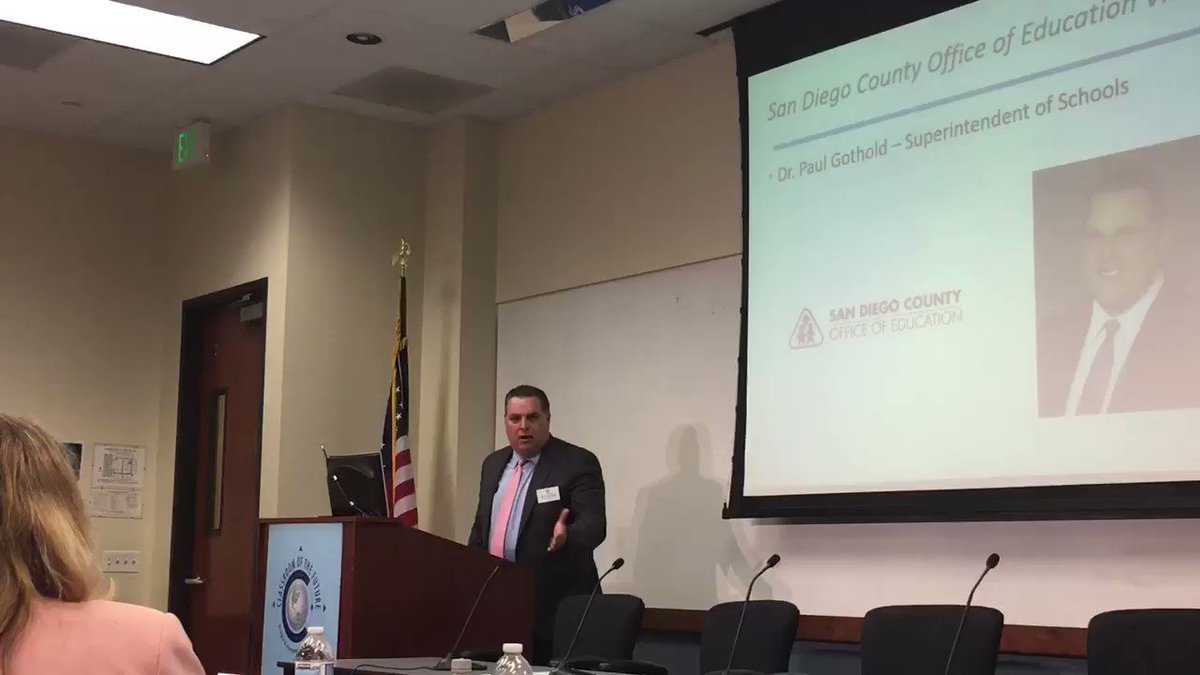 @SanDiegoCOE Superintendent Dr. @PaulGothold shares commitment to "All Means All"… #opportunities #options #CareerPS17 #SDGEgiving @sdge pic.twitter.com/hwxYhDXlow

— Nhu Tran (@Nhu_SD) September 19, 2017
After Dr. Gothold's remarks, attendees heard from panels on three different topics in the career pathways movement:
Block A Panel Discussion: Career Exploration & Pathways
Panelists included:
Scott Sibley, INFORM Journeys
Dan Stoneman, Educational Consultant
Lorin Stewart, Immediate Past CEO, LEAD San Diego
Block B Panel Discussion: The Importance of Teacher Externships
Panelists included:
Ed Hidalgo, Cajon Valley Union School District
Richard Oka, Clairemont High School
Block C Panel Discussion: The Importance of Work-Based Learning
Panelists included:
Phil Blair, Manpower San Diego
Roy Flahive, California Sign Association
Following the morning session, attendees participated in two different blocks of breakout sessions, which provided in-depth information on career exploration in K-12, world of work initiatives in school districts, the regional approach to expanding career pathways, and the importance of teacher externships.
"Make sure we know our kids strengths, interests and values" #Careerps17 pic.twitter.com/QhCxM3GNz5

— Intervention Compass by Mr. Elmer (@MrElmerLLC) September 19, 2017
@ScottSibley6 showcasing Journeys as a platform for exploring career pathways and options. Very cool. #CareerPS17 pic.twitter.com/4MKVIvih6T

— Steve Regur (@sregur) September 19, 2017
The summit ended with a networking lunch and closing remarks. James Wright, CEO of the Classroom of the Future Foundation, ended the day with the following statement:
"By working together more closely, San Diego's education and business communities have made significant progress towards expanding career pathways for our students and preparing them to be our future workforce. If we want our economy to be strong and our workforce to be skilled we must continue to invest in work-based learning that inspires local students to pursue opportunities in priority sectors like clean tech and information technology."
CFF and its partners look forward to convening the 3rd Annual Career Pathways Summit in September 2018!